The Bitcoin Lightning Network is The Most Efficient Payment System In The World!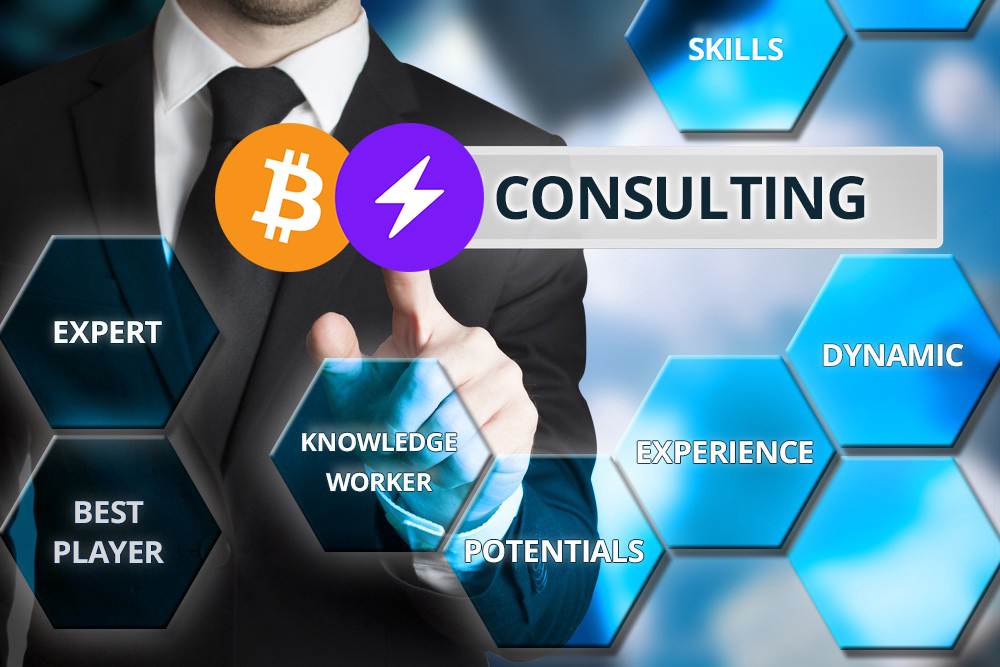 Bitcoin Lightning Network benefits:
YOU are your own bank and YOUR OWN merchant provider.
Instant, real-time payment and settlement. No delay whatsoever in getting paid.
Miniscule fees in comparison to Visa, Mastercard and the banks.
No need for you to pay any merchant processing fees.
Capable of over 40 million transactions per second across the network which blows away Visa, Mastercard and the banks.
You get to secure your funds independently and you're the underwriter for all of your transactions.
Settle fiat transactions in real-time which means instant liquidity. You can convert the bitcoin received back to fiat / AUD currency at any hour of the day on a fully functional cross-border platform. This functionality has never existed before in human history.
Funds are fungible (individual units known as 'satoshis' are interchangeable and each part is indistinguishable from another part), and the movement is logged on the ledger, so there is proof the money has been sent. No follow ups, no delays, no bank holidays.
Micropayment friendly. Perfect for small and micro value transactions. Lightning can send payments as low as 0.00000001 Bitcoin (0.00060 cents) as at 17th Jan 2022 without custodial risk.
Incredible benefits for small businesses.
Fast, off chain transactions.
Real time settlement.
All the accounting happens automatically with a detailed electronic record of all transactions. Financial freedom, financial self-sovereignty, huge cost savings especially for small businesses. Sometimes, 2-3% of small businesses' gross revenue is lost to credit card fees due to vendor, supplier, and utility payments. If you begin using the Lightning Network, you will dramatically reduce the costs of these transactions.
Much less energy usage. Lightning scales non-proportionally to energy usage and is designed to work on a peer-to-peer network leveraging other people's existing connections.
Does not use the computational power necessary to confirm blocks on chain.
In 2021, Galaxy digital estimated the total annual energy consumption of the existing banking system to be 263.72 TWh usage. Bitcoin's energy usage may seem large at face value, even on a purely transactional level, but the carbon emissions are even lower than some everyday activities that few describe as excessive energy use – and The Lightning Network is behind this.
First mover advantage over your competition in implementing the most efficient payment system in the world!
INTJ Billing's Bitcoin Lightning Network Consulting Services
Clarke provides high quality Bitcoin Lightning Network consulting services to businesses located worldwide.
Clarkes services include:
Linux Operating System installation on your server on premises or in the cloud.
Installation of all software server and security updates.
Installation of
docker
,
BTCPay Server
and
Ride The Lightning
.
Installation of INTJ Billings
custom written scripts
to ensure service uptime and other important functions.
Configuration of your server's security settings.
Installation of an
SSL certificate
for your new lightning network server.
Installation and configuration of
Apache
and
NGINX
.
Port forwarding on your router to ensure incoming connections can be made to your BTCPay Server Ride the Lightning instance.
Configuration of the firewall on your server to ensure ports are accessible so other nodes can connect to your node correctly.
Working with your IT staff to configure your DNS and name servers and working with your domain name registrar to configure your domains correctly to point to your new lightning network server.
Purchasing Bitcoin for your business
.
Transfer of Bitcoin on Chain to your Bitcoin Lightning Network Node.
Purchase of inbound liquidity from
Yall's
,
Bitrefill
,
LNBig
and
Coincept
to ensure you are able to receive payments to your node from paying customers.
Channel opening to other lightning network nodes and advice on channel size, prominent nodes on the network and opening channels to appropriate nodes.
Advice on engaging in
liquidity swaps
with other lightning network node operators and advice on becoming an opener and trusted node operator.
Creation of accounts on
1ML.com
and
Lightning Network Plus+
, adding custom text about your node on these websites.
Creation of your Store in BTCPay Server.
Creation of your Bitcoin Wallet in BTCPay Server.
Securing of your Bitcoin Wallet in BTCPay Server.
Assisting you with writing down your
Bitcoin Seed Phrase
for your store and how to secure it.
Creation of your Point-of-Sale App in BTCPay Server and working with your retail sales staff to add your products and services to your store.
Creation of an excel file of your server's configuration settings or working with your change configuration staff to input your new servers details in your configuration database.
Testing of your Lightning Network store, purchasing products and services from your store to ensure customers can do this successfully.
Guidance on how to successfully administer and operate your Bitcoin LN node.
Guidance on liquidity providers and how to purchase additional incoming liquidity from
Y'alls
,
LNBig
,
Bitrefill
and
Coincept
.
Guidance on websites applicable to your server including
1ml
,
lightningnetwork+
,
amboss.space
,
lnchannels
,
mempool.space
,
terminal.web
,
cheeserobot
,
lightning node match
,
lnrouter
and
lnnodeinsight
Guidance for your staff on how to use your node.
Handover of all your server's configuration settings and security details.
The presentation of a custom developed training video on
Bitcoin Lightning Network administration
and walking through all the commands in this video.
Passing to you
a spreadsheet of all the commands you need to know in order to successfully run your Bitcoin Lightning Network node independently of INTJ Billing
.
Presentation to your business of the Bitcoin Lightning Network custom metal pin indicating your status as a bitcoin lightning network first mover, innovator and righteous person in the space.
Consultation on
battery backup solutions
and UPS for uptime reliability of your node.
Details of prominent pioneering people in the lightning network space to follow on YouTube, Twitter and other social networks.
Explanation of key terms you need to know about your node including node id, Clearnet node URL, Tor Onion network URL, port numbers etc.
For businesses located in Australia, working as a technology liaison between your business and a KYC/AML solicitor to ensure you are not a designated service as per AUSTRAC's anti-money laundering and counter terrorist financing act 2006
https://www.legislation.gov.au/Details/C2021C00243
section 50A "exchanging digital currency for money (whether Australian or not) or exchanging money (whether Australian or not) for digital currency, where the exchange is provided in the course of carrying on a digital currency exchange business". If you are a designated service, liaising between your business and the AML/KYC lawyer INTJ Billing works with.
Advice on securing your seed phrase off site.
Talking you through the language differences between being a PayPal merchant and a Bitcoin Lightning Network merchant.
Explaining to you
the state of the bitcoin lightning network
, where it's at, number of nodes on the network, etc.
Explanation of
inbound and outbound capacity and how it changes when transactions are made and purchases are made from your store
.
Explaining
common lightning network wallet error messages and how to work around them
.
Recommendations of
lightning network wallets
for your customers to use for easy purchases from your store.
A walkthrough of the work Clarke has done for
Pride Bar in Footscray in getting their lightning network node operational and empowering their customers to purchase drinks at the bar fast and in a completely cashless way
.
Discussion of self-sovereignty for businesses that operate in high-risk areas that need uncensorable payments. This advice is most useful for all the business types that the banks and payment processors wont deal with. If you have been debanked or financially censored this advice will be of interest.
A walkthrough of how to use a
Satoshi to AUD calculator
.
Printing of
Bitcoin Lightning Accepted Here signs
for display at your Point of Sale
Full handover training so you can effectively operate your new lightning network online store including:
1. How to buy bitcoin for your business on Coinspot.
2. How to send that bitcoin to your BTCPay Server Ride the Lightning instance.
3. How to send bitcoin from your BTCPay Server Ride the Lightning instance to your Wallet of Satoshi wallet on your mobile phone or iPad.
4. How to use that bitcoin in your Wallet of Satoshi to purchase products from your online store. This is a great demonstration as to how your customers will experience buying from your store.
5. How to convert bitcoin received at your store back to Australian currency.
6. How to send satoshis from one BTCPay Server Ride the Lightning instance to a second BTCPay Server Ride the Lightning instance.
Please check out this in depth case study about how INTJ Billing helped Pride of Our Footscray Community Bar implement Bitcoin Lightning Network payments at the bar: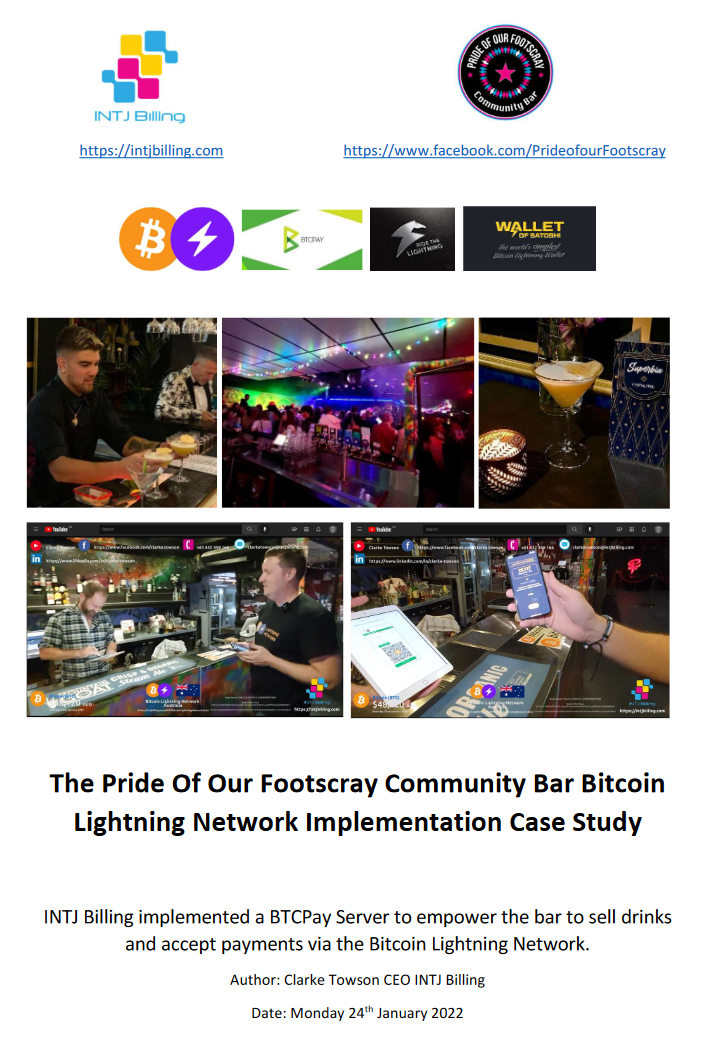 Please check out Clarke's YouTube channel which has a number of videos specifically about the Bitcoin Lightning network: